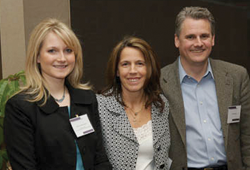 Petherick Scholarship recipient Rebecca Mastrangelo (left) with Gina and Jeff Petherick
The Gina and Jeff Petherick Endowed Scholarship gives financial assistance to Oakland University Human Resource Development (HRD) students who strive to serve others—a value the Pethericks hold very dear. The Pethericks, who believe in following Christ's example of giving, serving and supporting others, demonstrated their faith by crafting a scholarship that would benefit individuals who also value service to others.

After having to put her education on hold, Gina was able to come back to Oakland and finish her degree in HRD. During her time at OU, Gina gained insight into the challenges that students faced, and felt compelled to do something that would ease their struggle.

"If I can help someone get their degree earlier, quicker, faster, that would be great," said Gina. "They just need someone to believe in them."

Brad Atkins [SEHS '09] received the Petherick Scholarship during his time at Oakland, and found relief from some of the financial difficulties he encountered while attending college. As a recipient, he understood the importance of balancing his duties as a student with his obligation as a citizen to help his community.

"I think it's a very important part of the scholarship that allows applicants to express their feelings on the value and importance of serving your community and having compassion for your community and the people who live and work in it," Atkins said. "It's a great scholarship. It emphasizes the importance of serving the community both within and outside the campus, and it brings awareness to the many different ways that students can offer service. It's a great representation of the HRD program and the people who are in it."

The Pethericks gave to Oakland by transferring stock from their portfolio to the University, and, by structuring their gift as an endowment, ensuring their gift will exist in perpetuity. Jeff noted the ease and efficiency of making such a gift. "We had some significantly appreciated stock where our cost-basis was really low, and so, by giving away that appreciated stock, the college gained funds, and we avoided capital gains tax and got a deduction," he said. "It's really easy to do, and can be done, I'd say, in less than a week," he added.

Schmucker noted that stock gifts are often overlooked, as people tend to think the University only accepts cash gifts. "They truly are very easy gifts, and highly beneficial for donors to make," she said. "The Pethericks knew this was a good option for them, and their gift has made a real and positive impact on the University."

Indeed, the Pethericks have gotten great joy in seeing their gifts in action, and note that any effort, no matter how large or small, has meaning. "To those students [who receive the scholarship], it's a really big deal, and seeing that impact has brought joy to Gina and me in ways we never imagined," said Jeff.


Jason Storms is an undergraduate studying English and Psychology at Oakland University. He served as a student writer during the summer of 2011.