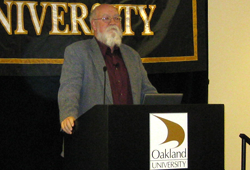 Richard J. Burke was the first faculty member hired by Oakland University. He taught in the Department of Philosophy for 46 years (1959-2005) before retiring. However, he continued to bring his insight and that of other fascinating thinkers to Oakland's campus.

Through his generous gift, the Richard J. Burke Lecture in Philosophy, Religion and Society was established to host noted scholars and philosophers on Oakland's campus. The lecture series is designed to tackle today's most compelling issues, sparking serious and thought-provoking discussions among scholars, students and the community.

The philosophy department greatly anticipates the annual lecture series, and students read works by the scholars in preparation for their two to three day series. The annual speakers visit classes and meet with faculty, in addition to hosting discussions and evening lectures that draw crowds of up to 400 people.

Through making the gift, professor emeritus Richard Burke wanted to encourage philosophical discussion on campus and provide students with opportunities to take part in stimulating dialogue with influential scholars and thinkers.

"My favorite was Shadia Drury, a distinguished professor of 'social justice' from Canada. She challenged the way we Americans tend to think of ourselves as superior, and she sent us drafts of a book she was writing to encourage discussion and invite input. Everyone she met was delighted with her," Burke said upon being asked about the most memorable lecturer.

Professor Burke's gift and legacy was made possible through a charitable donation from his IRA account. An IRA charitable rollover is made directly from a traditional or Roth IRA of a donor who is 70-1/2 or older. In fact, an individual can make a charitable gift of up to $100,000 this year. Additionally, if transferred from a traditional IRA, the gift may count as a required minimum distribution.

Professor Burke's financial advisor knew the benefits and suggested this gift method to him. Professor Burke was thrilled with the simplicity of making the gift and happy it could make the lecture series a reality.

Sadly, Professor Burke passed away on February 14, 2012, at age 79. However, through his generosity, his lecture series will continue on campus for many decades into the future.

Please contact the Office of Planned Giving for additional information (giftplan@oakland.edu or (248)364-6129) on how to take advantage of different planned giving methods and how you can be a part of Oakland's future.


Jason Storms is an undergraduate studying English and Psychology at Oakland University. He served as a student writer during the summer of 2011.